Hudson FttH RFP Information
The RFP:
HUDSON, OH (October 18, 2022) – The City of Hudson is exploring opportunities for a Public-Private Partnership to provide access to high-speed fiber internet for Hudson residents at no direct cost to the City. To investigate these opportunities in more detail, the City is issuing a Request for Proposal (RFP) to gauge the interest of potential respondents to fund and build additional residential fiber options throughout the City of Hudson. This expansion will extend the value Hudson's City-owned and operated Velocity Broadband has brought to the business sector of Hudson and provide the same level of service to all residents.
The City owns and operates its own fiber service known as Velocity Broadband. Established in 2015, Velocity launched as a high-speed fiber solution for Hudson businesses. Velocity expanded to include service to residential locations located near the fiber path. There is a significant need for access to high-speed fiber internet to all residential areas of Hudson, Ohio. 
Respondents must be capable of providing all the tasks and meeting all the expectations as described under the Scope of Services and Scope of Project. Maintenance of these capabilities is required until the project is successfully completed.
RFP Scope of Services, Scope of Project, and expectations can be accessed here:  Hudson Fiber to the Home RFP. 
Submission Deadline: 
One (1) electronic version of the Respondent's Proposal (PDF Format) shall be submitted to the City of Hudson Attn: Mr. Paul Leedham, CIO at: pleedham@hudson.oh.us by 4:00 p.m. local time, Dec. 2, 2022. No proposals will be accepted after the above date and time. 
Questions relating to the RFP should be addressed to Mr. Paul Leedham, CIO, City of Hudson, at pleedham@hudson.oh.us or at (330) 342-9541.
Questions and Answers:
1. In the Prebid conference you mentioned the City previously considered a full build out of the fiber system including all residential, but then determined it didn't want to proceed with that capital undertaking. 
A. Can you provide any buildout plans you may have already prepared showing your envisioned full buildout plans under that prior build out scenario? ANSWER: We do not have any formal buildout plans. In spring of 2018 we consulted with UpTown Services to complete a feasibility study for expanding Velocity to the entire community. That study did include a few sample buildout plans to generate a total build cost estimate.
B. Can you provide any details you may have on the construction/installation pricing estimates received which show what that scenario would have cost had you opted to proceed at that time? ANSWER: Below is an excerpt from that 2018 study. Please note that these values were generated with assumptions and material prices in 2018 and have not been updated to account for new material costs or assumptions.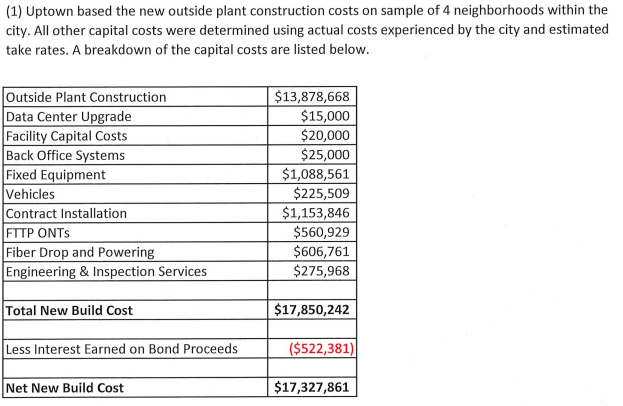 2. It is stated in the RFP that the system produces a net annual profit of approximately $150,000 annually, after debt service.  Can you provide details of (a) historical revenues, (b) historical expenses, and (c) debt allocated to the system including terms, amounts currently outstanding, and remaining scheduled debt payments? ANSWER:

3. Is the City of Hudson open to selling or leasing over the long term its entire fiber network and business? ANSWER: We are willing to consider the request of leasing or purchasing our system. Once all proposals are submitted, we will review each proposal and select the best solution for the City of Hudson and existing Velocity Broadband customers by using the evaluation criteria outlined within the RFP.
Other Resources:
September YTD VBB Business Plan to Actual Comparison
Pre Proposal Meeting Audio File (.m4a) - Taken from the meeting that occurred on November 2nd.
Hudson GIS Data relative to the Fiber Project - Zip file containing various GIS layers that will be helpful for preliminary design for this project.