Hudson Offers Fastest Broadband Internet Service at Affordable Rates
It doesn't get faster, more reliable or more affordable than Velocity Broadband, the city of Hudson's fiber-optic broadband service.
In contrast to big-name companies, the city-owned and operated service, located at 1140 Terex Road, has a local team of city employees committed to providing customer service that is second-to-none.
The high-speed broadband service, offering up to 10 GBs, is made possible by the city's all-fiber network, a more efficient alternative to the traditional DSL or copper cable networks that most broadband companies use.
Building on the success of Velocity Broadband's service to Hudson businesses, it is now offering the same high-speed internet and phone service to homes along the fiber network.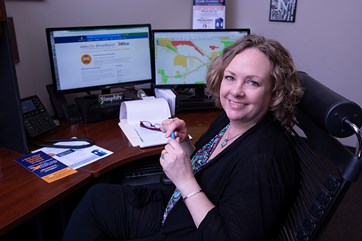 Maureen Reich
Maureen Reich, customer experience ambassador, has worked for Velocity Broadband since its beginnings in 2015, bringing her experience to operations, accounting and administration. She explained that the service originated after many Hudson businesses vocalized that they didn't have decent choices for internet service.
"Many went to Hudson City Council members to ask if the city could help them in some way," Reich said. "We did some surveys of businesses and residents that revealed there was a great demand for better quality internet and asked some of the big-name providers of internet if they could do something about it. Nobody stepped up, so the city decided to provide its own service."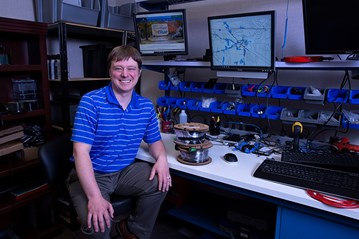 Will Ersing
Will Ersing, a Hudson native and chief broadband officer, leads Velocity Broadband. He has 14 years of IT experience and helped build the service from the ground up, making Hudson one of Ohio's first Gigabit Cities.
The city started rolling out its phone and internet services in 2015, a time when municipal fiber networks were far from the norm.
"We were one of the first cities in the United States to build this type of network and take care of our customers ourselves as a city," said Reich. "When we had first rolled this out, there were only 35 cities in the U.S. that had a municipal fiber-optic network, and now there are hundreds of cities that have one and hundreds more that are vying to do so."
The city currently services over 36 percent of all Hudson businesses and adds new customers every month.
"We also are very proud of our 99-percent retention rate," said Reich. "Our businesses are flourishing and growing. New businesses have come to Hudson, and many of them have stated that Velocity Broadband was one of the key reasons they decided to set up their business in our city.
"We're also very happy that additional businesses chose to stay and grow in Hudson. A big part of that was the availability of our high-speed internet services."
Businesses of all sizes enjoy the service Velocity Broadband offers, from barber salons and retail stores to call centers and large corporations.
"We provide the highest-quality broadband solutions with the highest speeds available in the area, at economical prices to match all business budgets," said Reich.
The fiber network is available in nearly all commercial zones in the city, making it easy for businesses to connect to it. In fact, most buildings are already connected to the network, said Reich.
Now, the service is reaching out to even more customers.
"We completed our business build-out and built redundant loops of fiber around the city," Reich said. "Our team, along with city council, in March 2019, made the decision to open up the network to residents who are along the fiber-optic path to also connect to the service."
Residents along the fiber path can now subscribe and purchase 1 GB of fiber optic broadband to their homes for a lower price, and receive speeds 10 times faster than standard cable internet. In May, crews began connecting homes in the historic area behind old town hall, and in neighborhoods along Darrow Road. New deployment zones are announced each month.
To put the high speeds of Velocity Broadband into perspective, one GB, or gigabit, of broadband allows a user to download an HD movie in about 10 seconds, without the buffering screens or painfully slow download and upload times.
"The trend today is that people are 'cutting the cord' and streaming more subscription services," Reich said. "Having fiber-optic broadband services enables people to confidently do so with excellent results and cost savings, too."
To sign up for Velocity Broadband, call 330-342-9544; email velocity@hudson.oh.us; or visit the Contact Us page at hudsonvelocity.com/contact-us.