What is the Fiber-Optic Advantage?
Fiber significantly increases the connectivity needed to run multiple high-speed devices for maximum broadband productivity. Fiber, particularly broadband optical fiber, will enable businesses to take advantage of the latest high-bandwidth and high-speed Internet at a price point much lower than other similar networks.
With Velocity Broadband, businesses can connect, download and communicate faster and with fewer interruptions. With a fiber-optic network, business will have access to greater bandwidth for collecting analytic data, more dependable connections without lag time for businesses operating in multiple locations, and constant monitoring services with instant notifications and data if things go wrong. The end result is a system that's faster than anything currently available in Hudson today, helping businesses save money and operate more efficiently.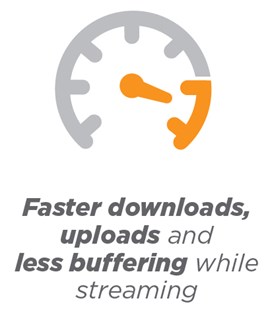 How Adaptable is Fiber-Optic Broadband?
After the initial lines of fiber have been installed, network operators can easily increase bandwidth—making it possible to update as faster technologies emerge. And, we can increase your speeds or lower your speeds to adapt to your changing business needs.
What is a Gigabit?
A Gigabit (Gb) is the bandwidth capacity at which data can transfer through the fiber-optic lines. Packages are available with less than a Gb or more, depending on your needs. A Gb is 1000 Mbps, faster than any option currently available in Hudson. Even more important is the download vs. upload speeds. Many current providers claim fast download speeds of up to 100 Mb in some cases. However, the upload speeds are often below 5 Mb. With Velocity Broadband, our lowest standard offering is 100 Mb down and 100 Mb up, far faster than what's available today. And if you're looking for dedicated service, we can provide it, all based on your specific needs.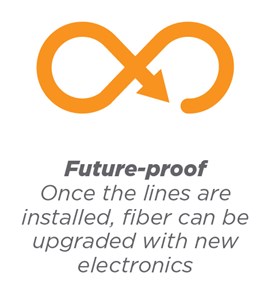 What is a Symmetrical Connection and Why is it Important?
Many DSL or cable Internet providers advertise Internet packages claiming "100 Mbps" speeds, but they only offer 10-20 Mbps upload speeds. Velocity Broadband packages all offer symmetrical connections, meaning that if you have 100 Mbps download speeds you also will have 100 Mbps upload speeds. Upload speeds are important if you're sending data, such as credit card transactions, large data files to other offices, and video streaming or video conferences.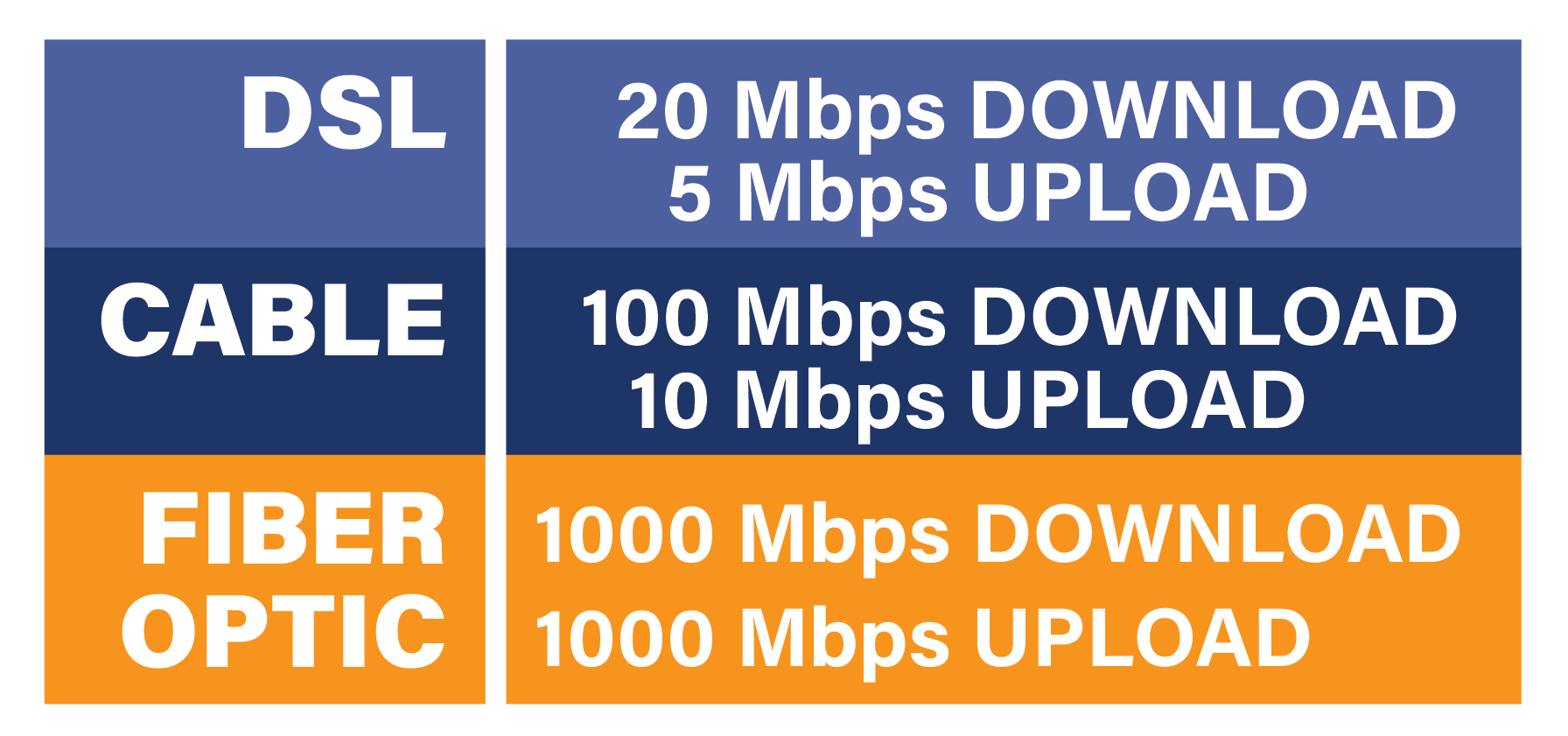 Why is the City Investing in Broadband? 
Internet speed and reliability has come up as a top concern for our local businesses in survey after survey. A thriving business community is critical to the economic vitality of Hudson—so we're making the investment to improve our infrastructure to ensure we retain our current companies and attract new ones. The City initially approached private providers to partner in bringing fiber broadband to the area, but unfortunately, they were not interested. So the City took the initiative to building a high-speed fiber network for our businesses.
How Can I Get Velocity Broadband?
Velocity Broadband is available in all major Hudson business areas. Contact our Customer Experience Ambassador at 330-342-9544 or via email at Velocity@hudson.oh.us to kick-start your customized Velocity Broadband Experience, or inquire here. We can't wait to help you get started!
Will my business need to purchase or install any special equipment?
No. The City is making all of the capital investments. It's a simple matter of connecting your business to our network.
What kind of service plans will be offered?
We offer several options – something that fits every business need and every budget. Contact us at 330-342-9544 or via email at Velocity@hudson.oh.us for prices that meet your business needs.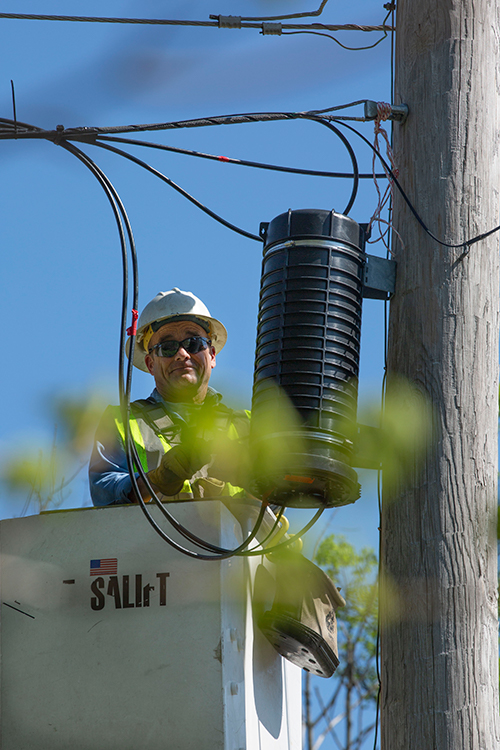 When Hudson-owned Velocity Broadband launched, we were excited to become a part of it. A fast and reliable Internet connection is essential to our business operations and Velocity Broadband provides the reliability and speed we've been looking for. Today, we're able to connect, download, and communicate faster and without interruption. It's also been beneficial to our bottom line. We're paying about 25% less than what we had previously paid and our Internet speed has increased significantly, allowing us to transfer files and communicate with ease.
AKHIA