What is Velocity Broadband?
As one of Ohio's first Gigabit cities, Hudson offers high-speed, 100% fiber-optic broadband and voice services to our local businesses. With faster, more reliable, and affordable internet and voice services, we empower our local businesses to compete in today's high-speed, data-drive world. In fact, City-owned and operated Velocity Broadband provides speeds up to 10 Gigabits per second!
Velocity Broadband is proud to announce the arrival of Velocity Broadband Blue. We are now offering new ultrafast 1 Gig service to all homes and home offices along our existing fiber network for only $68 a month! Learn more here.

Meet the Team
Meet the Velocity Broadband Team that works hard every day to provide a personalized experience and exceptional customer care to all our valued customers!
Background
2014: The idea of Velocity Broadband was born.
March 2015: Velocity Broadband for businesses was approved by Hudson City Council.
September 2015: Beginning of the deployment of Velocity Broadband to business areas/commercial zones in Hudson.
March 2017: Velocity Broadband connects its 100th business customer.
October 2018: Velocity Broadband connects its 200th business customer. One-thid of all Hudson businesses are now connected!
March 2019: Velocity Broadband Blue is announced - addresses along the fiber line will be eligible for service in the coming months!
April 2019: Velocity Broadband Blue first deployment begins.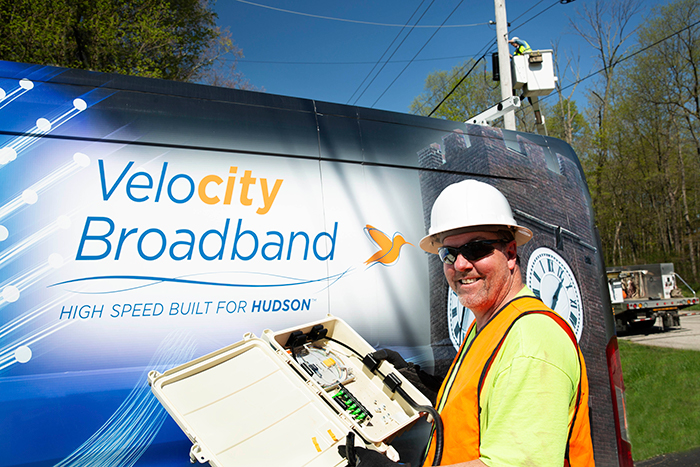 Business Dashboard
View the Velocity Broadband Business Dashboard to learn more about this service, including funding information.
How Can I Get Velocity Broadband?
Contact our Customer Experience Ambassador at (330) 342-9544 or via email at Velocity@hudson.oh.us to kick-start your customized Velocity Broadband Experience, or inquire here. We can't wait to help you get started!
When Hudson-owned Velocity Broadband launched, we were excited to become a part of it. A fast and reliable Internet connection is essential to our business operations and Velocity Broadband provides the reliability and speed we've been looking for. Today, we're able to connect, download, and communicate faster and without interruption. It's also been beneficial to our bottom line. We're paying about 25% less than what we had previously paid and our Internet speed has increased significantly, allowing us to transfer files and communicate with ease.
AKHIA